The rigors of building a success NFL career put strain not only on the physical capacities of a young athlete, but also on his ability to handle the mental stress of keeping up in the hyper-competitive world of a professional football.  NFL scouts are fully aware of the importance of bringing back to club decision makers an accurate projection of a player's "ability to learn".  
During the early years of modern day player evaluation, scouts leaned heavily on the information given to them by a player's college coaching staff.  The importance of building strong relationships with the schools and universities in a scout's area paid huge dividends in gaining a clear understanding of whether a prospect could or couldn't "get it". Later the Wonderlic Test was introduced as a quantitative tool to discern this very same thing.  
But major gaffes in the draft over the years have led to questioning the accuracy and reliability of these two sources of information with regards to overall cognitive ability.  NFL teams began searching for alternative methods of truly coming to the bottom of whether a potential draft selection could "keep up".   These tests would expand into character assessments as well and all thirty-two organizations scrambled to find answers to what the internal makeup of a prospect was and not just merely measuring his external physical skills to determine draft day value.
Our partners at Optimum Scouting have a fantastic article on the growing use and reliability of the APTUS test in helping teams find out how a player mentally ticks and learning processes will help him reach is maximum productivity. 
The Football Educator
WHAT IS THE APTUS TEST, AND WHY NFL AND COLLEGE PROGRAMS ARE FALLING IN LOVE WITH IT?
by Mark Dulgerian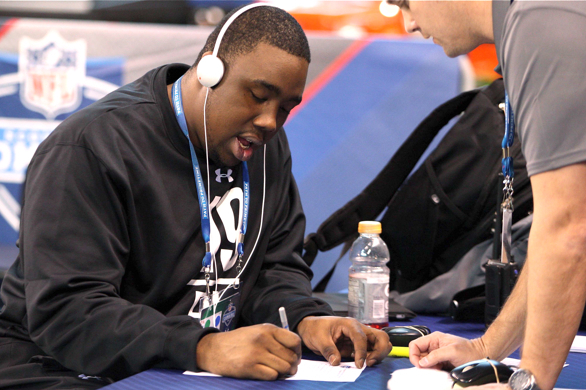 This past season, an SEC assistant football coach (anonymity requested) was perplexed as to why his young physically gifted player was still struggling to make an impact on the field as they'd just wrapped up a third of their schedule.  The young player was a physical specimen who was expected to be a significant part of the team's plan, but he just couldn't consistently execute the elements of the system.
The exasperated coach finally let out his frustrations in a coaches meeting.  "He just doesn't get it!" exclaimed the coach.  "I meet with him every morning to review his responsibilities and it just doesn't carry it over to the field.  I don't know what else to do!"  Afterward, a senior member of the staff, who happened to be in the meeting, went up to his office and printed out the player's APTUS assessment results.
Based on the APTUS results, the staff quickly recognized that their struggling young player was a walk-thru learner rather than a whiteboard learner.  The player learned best by "doing", not by drawing on a whiteboard every morning.  In other words, he was a "kinesthetic learner" who just needed more reps on the field.   His coach took note and made a point to get him more reps in practice.  By season's end, the kid had developed into one of the most productive players on the team.
"My handling of him (Marcus Dupree) was probably the most regrettable coaching experience that I had" – Barry Switzer on ESPN 30 for 30
What is an APTUS assessment?
Since 2009, Texas-based company APTUS has used advancements in technology and behavioral science to develop a tablet-based platform that measures and objectively reports how a person defines, processes, and executes instruction.  On a tablet, a person participates in an interactive assessment that consists of 10 exercises lasting a total of 30 minutes.  Best described as video game-like, the assessment requires active participation and measures learning as it occurs in real time.
Why might the APTUS assessment be more beneficial than the Wonderlic, player interviews, subjective surveys, and questionnaires?
One main difference between the APTUS assessment and other subjective analysis is that it is not an interview, survey, or test.  In fact, APTUS happily enforces an office rule that requires an employee to drop and do 10 pushups on the spot if they do call it a "test", according to company executive Mac Lane.  There are no multiple choice or true/false questions.  This means that every player that participates in the assessment is being measured on an equal playing field.  It minimizes any variance caused by test anxiety or educational background.
Another main advantage of the APTUS assessment is in the tablet platform itself.  It accounts for the fact that today's young adults are easily the most distracted group the world has ever seen. Today, nearly every college kid can update their Facebook status, tweet their friends, or comment on Instagram on a moment's notice.  Instead of the Wonderlic's daunting 50-questions-in-12-minutes written format, APTUS meets the players on a familiar platform and engages them with game-like exercises so that they're almost unaware of the fact that its an assessment.
Nowadays, it's almost common knowledge that the Wonderlic has little to no correlation to NFL success.  Over the years, there have been several examples of Hall of Fame players that bombed the test, while plenty of NFL busts aced it.  You may even think that Wonderlic scores would at least reveal some indication of quarterback success since it is arguably the most cognitively demanding position in sports.  But if you looked at the scores Dan Marino and Terry Bradshaw posted pre-draft, you'd be certain they would struggle to grasp an NFL playbook.  In the meantime, guys like Matt Leinart and Joey Harrington posted scores well above the average.
"If you don't like change, you're going to like irrelevance even less" – General Shinseki
Fast forward to 2014.  After listening to NFL GMs complaining about getting it right with prospects only 50% of the time and college coaches venting about recruits' inability to develop, APTUS has pinpointed a major area of opportunity that the Wonderlic doesn't address: finding out the best method to developing a player.
Ty Detmer, former NFL quarterback and current high school football coach, has gone on record saying that for years he had been teaching his players the way he liked to be taught when he played—from a whiteboard.  That is, until APTUS discovered and revealed his new quarterback was more of a kinesthetic learner.  "It changed how I approach practice in that he needs reps", Detmer said about his new quarterback.  He continued, "He's a good player, but he just learns differently than the guy I had last year".